Come to the Bowers Museum to experience world art, history and culture in nearby Orange County! There are so many treasures at Bowers Museum, you can't see them all at once. With our docent-led gallery tours, Bowers Museum offers an in-depth exploration of one of our permanent galleries or special exhibitions. You also have the option of participating in a hands-on art project to give your experience an ample slice of creativity. Our ever-expanding collections provide exciting new ways for our guests to interact with world art, history and culture. It's easy, accessible and fun for all ages and learning styles.
Educational Experiences include:
Docent Guided Tours of Permanent and Changing Exhibitions
Self-Guided Museum Experiences
Hands on Art Making
Teen Career Development Programs
Afterschool Programs
Treacher Professional Development Programs
---
WE ARE CURRENTLY RESTRUCTURING OUR ONLINE BOOKING!
If you have any questions or would like to schedule a visit, please contact the Tours Office directly at 714-567-3680 or This email address is being protected from spambots. You need JavaScript enabled to view it.
---
SPECIAL EXHIBITION Tours & Art Projects 2017-2018
September 30, 2017 - January 28, 2018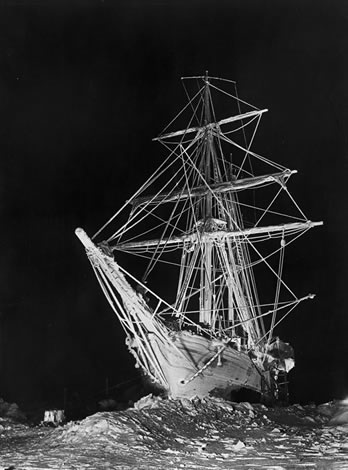 Endurance: The Antarctic Legacy of Sir Ernest Shackleton and Frank Hurley features rare images and documenting of Sir Ernest Shackleton's Imperial Trans-Antarctic Expedition of 1914-1917, as captured by the expedition's official photographer, Frank Hurley. Newly digitized from the original glass plates and celluloid negatives, these images survived the exraordinary journey undertaken by Shackleton, Hurley and the other members of the crew, revealing previously unseen details of the crew's epic struggle for survival both before and after their ship was destroyed. Accompanied by select artifacts from the expedition and a narrative comprised of the logs and diaries of Shackleton and his crew, Endurance brings the incredible story of human survival and the drive to explore unreached territories to life.
Art classes: Art projects for this exhibit are currently being developed
Minimum 15 students, Maximum 75 students per visit

Image Credit:
'The Long, Long Night'
This image was taken by Hurley during the winter of 1915,
using 20 flashlights to create a 'spectre ship' effect.
(RGS-IBG S0000143)
Artist / photographer: Frank Hurley
Date: 1915
© RGS-IBG

November 18, 2017 - March 11, 2018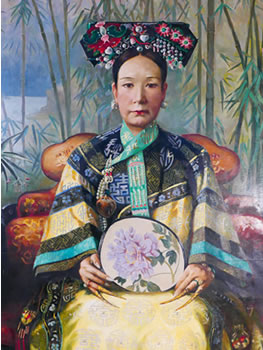 Empress Dowager Cixi (1835-1908) stands in the center of modern Chinese history. Cixi not only led politics, but also art of China at the crossroads of tradition and innovation. The exhibition reconstructs the matriarch's everyday life in the Summer Palace, presenting her multi-faceted roles of politician, matriarch, and connoisseur of the arts.
Art classes: Art projects for this exhibit are currently being developed.
Minimum 15 students, Maximum 75 students per visit



Image credit:

"H.I.M The Empress Dowager of China, Cixi"
戴泽 after the original by Hubert Vos, 1905

---

permanent gallery tours & art projects
The region of California has the first evidence of Indigenous peoples as early as 17,000 BCE, and, in countless villages across this ecologically diverse land, had the highest population density north of Mex ico in the Pre-Columbian eras. Come celebrate these rich and enduring cultures through this extensive collection of Native Californian art and material culture. Explore the history, lifeways and customs of California's First Peoples, how they thrived, and the ways they shaped their cultural identities that still survive today.




Minimum 15 students, Maximum 75 students per visit

Click here to download our Southern California Indian Curriculum Guide

---

The Missions and Ranchos Gallery illustrates the vibrant, diverse, and colorful history of the people who settled the West Coast and Orange County. It begins with the conquest, Christianization and colonization of California during the Spanish Mission period (1768-1822) and carries through to the Mexican Rancho period (1832-1848). Our artifacts tell local stories of a borderland culture where Indigenous, Spanish, Mexican, California and Yankee traditions jostled together in a world both old and shockingly new.


Art Classes: Cattle Brands, Rancho Cochineal Textile Prints

Minimum 15 students, Maximum 75 students per visit

Click here to download our Early California History Exploration and Settlement Curriculum Guide

---

Viewers will take a rambling journey through California's visual history, a history shaped by a unique mixture of Mexican and Anglo traditions as well as the state's position on the Pacific Rim. Each painting epitomizes California's land, people and offerings as a place of produce and plenty. The exhibition brings together many of the museum's most cherished paintings, including works by early artists documenting the Mission and Rancho periods; landscapes by plein air painters portraying California's coasts and canyons; sumptuous portraits and still-life paintings of flowers and paper-wrapped fruit by Alberta and William McCloskey; and a small selection of works indicating California as a continued place of possibility. This will be the first public display of many of the selected paintings, some of which have spent years in storage.

Art Class: Watercolor Landscape Painting

Minimum 15 students, Maximum 75 students per visit

---

Journey back 5000 years across time in masterworks of the world's oldest living civilizations. Witness the breathtaking evolution of Chinese art and culture spanning from the Neolithic Era to the collapse of the Qing dynasty in 1911. This feast for the eyes includes a tomb demon from the Warring States period (475-221 BCE), a laughing trio of terra cotta horses prancing out from the early Ming Dynasty (960-1460 CE), and many other Chinese treasures that can only be seen here. You may also participate in hands-on activities with real artifacts!

Art Class: Chinese Watercolor Scroll or Clay Dragon

Minimum 15 students, Maximum 75 students per visit

---




Venture into the magic of Oceania, where over 2,400 artifacts weave stories of birth, marriage, war, death, and the spirit world. Masterworks in this comprehensive exhibition originate from Micronesia, Melanesia, and Polynesia. Particular focus is placed on New Guinea, land of the headhunter. These shadowed halls conjure sights of wooden totems, fire masks, tools of the shaman, and sounds of a living rain forest. Come immerse yourself in the rich artistic traditions infused into daily and ritual lifeways. Recommended for grades 6 and up.

Minimum 15 students, Maximum 75 students per visit

---

Create Your Own Tour

Is your class studying a particular culture, theme or topic? We would be happy to work with you to develop a customized tour and art project to accommodate your student's needs. Contact the Tours Office for more information on how to create your unique and specialized museum experience.

---

Pricing

School Tour & Art Class Pricing – General Admission Galleries

Pricing for regularly priced galleries, including Endurance, is $13 per student for tour and an optional art project.

1 chaperone for every 10 students is required, and is free, with additional chaperones at $13 each.

All teachers and special needs aides are free.

Pricing includes admission to one gallery.

School Tour & Art Class Pricing – Special Exhibitions

Pricing for special exhibitions, including Empress Dowager Cixi, is $15 per student for tour and an optional art project.

1 chaperone for every 10 students is required, and is free, with additional chaperones at $15 each.

All teachers and special needs aides are free.

Pricing includes admission to one gallery.

---

Are you a title I school?

Your school may be eligible to receive grant funds to cover all or part of a tour, art class, and up to $250 reimbursement per bus. For more information on our grant program, click here

---

Scheduling

Minimum 15 students, Maximum 75 students.

School tours can be scheduled Tuesdays, Wednesdays, Thursdays, and Fridays starting at 9:30am.

We recommend allowing at least 2 1/2 hours for tour, break and art project. Please arrive 10-15 minutes early.

---

QUESTIONS? Ready to schedule?

Please contact the Tours Office at 714-567-3680 or This email address is being protected from spambots. You need JavaScript enabled to view it.