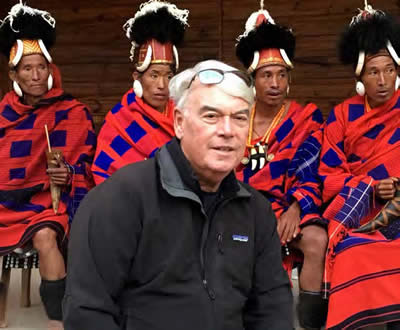 I often think that it would be fun to take all of the covers of our Passport newsletters and put them together as a collage of sorts that would, all at
once, trace the history and accomplishments of the Bowers Museum as seen through our dynamic exhibitions program. We would see a wide range of subjects that cover many of the great museums of the world, including the full gamut of great collections from the Terra Cotta Warriors and the Silk Road of China, to the fantastic pre-Columbian gold of Bogotá, and the intriguing Mummies of the British Museum.
However, the cover of this Passport newsletter is different. It represents our very own collection of Native American art and artifacts. Oddly enough, this collection was the first exhibit of North American tribal art ever seen in Colombia, and subsequently seen in three provincial museums in China. I know that many of our Docents and Board Members are very excited to see what we've been hiding all these years.
Please be sure to attend our membership preview event for First Americans: Tribal Art from North America on April 6th in order to get a firsthand view of a long-overlooked portion of the Bowers' permanent collection. I think you might find that the collection may be slightly weaker in its older objects, although that is more than compensated for in the late 19th and 20th century material that exhibits strong ties to their more ancient heritage and traditions.
Keep an eye out for some very important new-found treasures in the collection, including an early Hopi katsina doll, a rare Seri feathered kilt, and one of the oldest Navajo First Phase Chief's blankets known to still exist in a museum collection today. I look forward to seeing you at the members' opening of First Americans: Tribal Art from North America on April 6th.
Peter C. Keller, Ph.D