Art and Archaeology Summer Camps 2017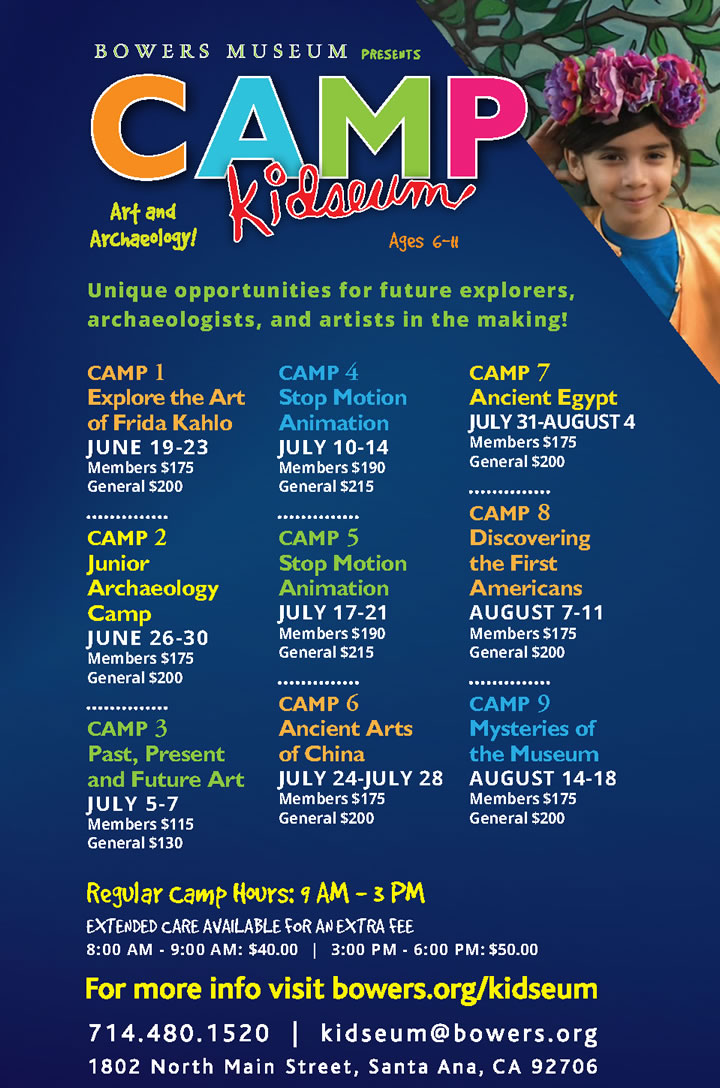 All Summer Camps are from 9:00 am-3:00 pm daily with pick up and drop off taking place at Kidseum (not the Bowers Museum). There are two extended care options available from 8:00 am-9:00 am for an additional fee of $40 and 3:00 pm-6:00 pm for an additional fee of $50. Please note that the am care starts at 8am and not 7am. Each day Kidseum will provide a light healthy snack for each camper from 10:15 am-10:30 am. Kidseum will not provide lunch and ask that parents send their child with a non-microwavable lunch each day and a water bottle. If you register online, you will also need to download the registration form and send it to Kidseum before the first day of camp. Don't want to register online, that's okay, you can call our friendly staff (714.567.3694) or visit Kidseum during public hours and we can help you register. Spaces are limited and places are not held without full payment, we cannot guarantee that there will be room in a camp if you arrive the first day of camp without registering in advance. When registering please make sure to carefully read our cancelation policy.
Camp 6: Ancient Arts of China
July 24 – 28 9:00 am -3:00 pm daily
REgister For camp 6
China, sweetheart of the East, invites us on a journey through art as we create bronze mirrors, butterfly kites, secret doors, clay dragons, Terra Cotta Warriors and treasure books. We'll try our hand at gold repoussḗ, block printing, make a tumbling Koshare puppet, Empress fans, and peek into caves at rock art. Baking sweet Chinese butter cookies and colorful window cookies adds to the flavor. Children will participate in a Chinese themed archaeological dig in the pits on the patio and visit the Bowers Museums' Ancient Arts of China: A 5,000 Year Legacy. The camp will culminate with a special guest leading the campers through a Tai Chi workshop during the final hour of camp.
Camp 7: Ancient Egypt
July 31-August 4 9:00 am -3:00 pm daily
REgister For camp 7
Campers will be immersed in the culture of ancient Egypt by creating art projects and participating in fun, educational activities. They will learn the important role that archaeology has played in understanding history. The experienced camp instructor will lead campers through a simulated ancient Egyptian archaeology dig. This camp is a great experience for those looking to learn more about ancient Egypt and improve their art skills utilizing a variety of materials.
Camp 8: Discovering the First Americans
August 7-11 9:00 am -3:00 pm daily
REgister For camp 8
Native American week seeks to explore the wide ranging cultures from North and South America. From early Californians and warring plains people, to the amazing pyramids and the people that made them in Central and South America, Kidseum Camp 8 engages in art and archaeology of the first Americans. Summer projects as clay Aztec suns and traditional Apache meals, seeks to engage students in a wide range of art from early Americans. Campers will also travel to the Bowers Museum and visit our "First Californians" exhibit and explore real artifacts. This whole experience leads up to hands on mock archaeological dig, where students break into groups and uncover the mysteries behind the First Americans.
Camp 9: Mysteries of the Museum Camp
August 14-18 9:00 am -3:00 pm daily
REgister For camp 9
Mysteries of the museum will include several in depth visits to the Bowers Museum. The exhibits that will be explored will include Spirits and Headhunters: Art of the Pacific Islands and the Ancient Arts of China: A 5,000 Year Legacy. Campers will also get a behind the scenes tour of the museum's collection that is not on display. There will be fun and educational activities and tours throughout the week.