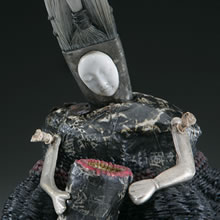 March 13, 2015 - November 8, 2015
Now extended through November!
This exhibition is about ingenuity and artistic inspiration. It reveals a journey that threads through a graphic designer's career.
From 1987 to 2012, Nancy Ravenhall Johnson grew and mastered a variety of positions at the Bowers Museum. She started as Gallery Store Manager, then Graphic Designer, VP of Public Relations and Director of Creative Design.
Read more: Where Ends Meet: A Retrospective of Works by Nancy Ravenhall Johnson