Fellows play a vital role in the life and work of the Museum. The Fellows Program offers a world of opportunities to satisfy your curiosity and fulfill your passion for the rare and exciting. Bowers Fellows are presented with exclusive travel opportunities including an international trip and a domestic trip each year. The Bowers Museum offers everyone a chance to experience international arts and culture without leaving Southern California. However, if you are the exploring type - always in search of something more - consider becoming a part of the Bowers Fellows.
Join or renew online today! You can also call membership for more information at 714.567.3639 or sign up with Visitor Services on your next trip to the Bowers! Anyone can join the Fellows and support the Bowers for just $1,200 for a full year ($1,100 is tax-deductible). The tax deductible portion of your contribution will further support the Bowers' mission to "enrich lives through the world's finest arts and cultures."
---
Exclusive Upcoming Fellows Travel
Be part of the Bowers Fellows and witness a world phenomenon that only takes place once a year in Africa.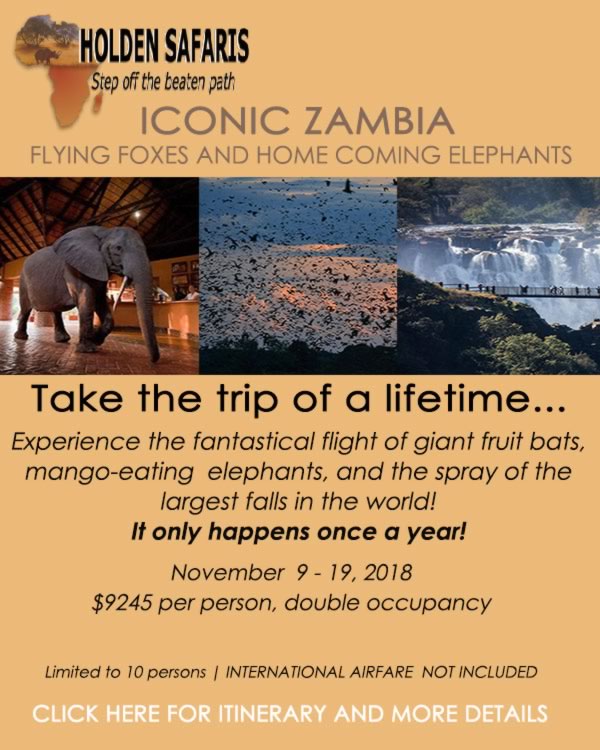 Unique, exclusive trip organized for the Bowers.
Discover Zambia with experts Peter Jones and Nick Aslin!
Meet artists, local historians and private guides, organized exclusively for the Bowers;
Enjoy private cocktail and dinner receptions;
Experience specially arranged private tours to local villages;
Learn about tribal textiles and paint your own batik!
Contribute to schools and sustainable projects within the local communities with your stay at The River Club in Victoria Falls, and Mfuwe lodge in the South Luangwa.
Yes, Sign me up No, Not This Time
Book with $2,315 deposit to hold your space.
Only one double occupancy left!

Special gift with your deposit!
2018 Calendar: Artist Mulenga Chefilwa designed the cover and the monthly art work was created by Zambian school children from the Luangwa Valley
Please make check payable to:
HOLDEN SAFARIS
Send Check to:
Bowers Museum Development Office
Attn: Erin Slattery
2002 North Main Street, Santa Ana, CA 92706
Or call directly: 714-567-3635 with Credit Card Payment Information
Please note that the deposit is non-refundable.