Past Exhibitions
Since its reopening in 1991, the Bowers Museum has hosted more than 80 exhibitions such as Treasures from the Royal Tombs of Ur, Secret World of the Forbidden City, The World of the Etruscans, Tibet: Treasures from the Roof of the World, Queen of Sheba: Legend and Reality, Mummies: Death and the Afterlife in Ancient Egypt, Terra Cotta Warriors: Guardians of China's First Emperor, Art of the Samurai: Selections from the Tokyo National Museum, Lucy's Legacy: The Hidden Treasures of Ethiopia, and Gods and Gifts: Treasures from the Vatican Ethnographic Museum.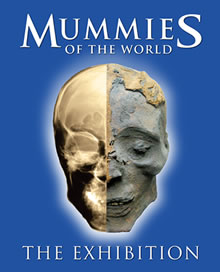 March 19, 2016 - September 5, 2016
Inside every mummy is a story waiting to be told.
Mummies of the World portrays a once-in-a-lifetime collection of real mummies and artifacts from across the globe. This compelling collection, presented with reverence and dignity, includes ancient mummies dating back as far as 4,500 years.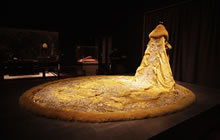 November 14, 2015 - January 3, 2016
Guo Pei's stunning gown, titled The Great Queen, made its first impressive appearance in a 2009 show of the designer's haute couture works. The gown achieved worldwide recognition when Rihanna wore it to this spring's Met Gala in New York City.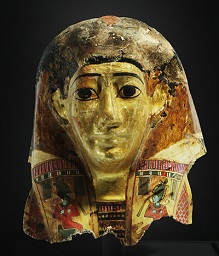 Closed
This exhibition explores a hidden phenomenon right inside of an Egyptian mummy mask! During the mask's first inspection at the museum, a photograph of the interior revealed the distinct impression of a human face.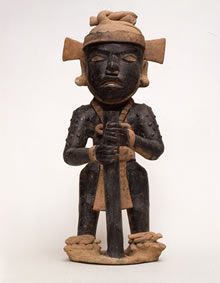 March 14, 2015- May 7, 2015
This exhibition showcases eight Pre-Columbian artifacts from the museum's permanent collection. These pieces date from 300-1500 A.D. and exemplify the power, beauty and intensity of art from the Mexican Gulf Coast state of Veracruz.

April 11, 2015- Extended To July 12, 2015
A Master. China's Picasso. The People's Artist. All of these prestigious titles belong to one man, Qi Baishi. Regardless of which title precedes him, Qi Baishi is widely regarded as the most well-known and influential Chinese modern artist.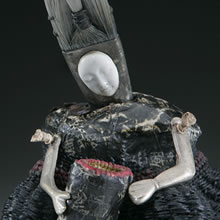 March 13, 2015 - November 29, 2015
This exhibition is about ingenuity and artistic inspiration. It reveals a journey that threads through a graphic designer's career. From 1987 to 2012, Nancy Ravenhall Johnson grew and mastered a variety of positions at the Bowers Museum. She started as Gallery Store Manager, then became Graphic Designer, and then VP of Public Relations and Director of Creative Design.
Read more: Where Ends Meet: A Retrospective of Works by Nancy Ravenhall Johnson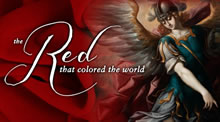 October 31, 2015- February 21, 2016
Red, with its brilliant hue and broad cultural history, has inspired artists' imaginations and seduced viewers for millennia. Artists and dyers for centuries strived to find the color source to rival the best reds of nature, and to express the spirit, symbolism and sustenance of life.